About
Debora Muhl is a self taught basket artist from Emmaus, PA, who uses the technique of coiling, in which coils of sweet grass are sewn together with waxed linens or artificial sinew. Her materials of choice are sweet grasses found in various parts of the United States as well as in Canada. All of the grass is gathered, combed & sorted by Native Americans. The grasses are left in their natural state for their sweet aromas. Many of these coiled sculptural baskets begin with an unusual cut-out segment of gourd and are designed in the process of their creation. The resulting basket is a free form sculpture.
Muhl began making baskets in 1984, but the challenge of mastering various techniques and materials eventually led her to create one-of-a-kind art pieces. Her work is included in many private collections around the world as well as in the permanent collections of the Mint Museum in Charlotte, N.C., the Museum of Fine Arts, Boston, Ma., the Fuller Craft Museum in Brockton, Ma., Museum of Decorative Arts in Paris, France and the Racine Art Museum in Racine, Wi.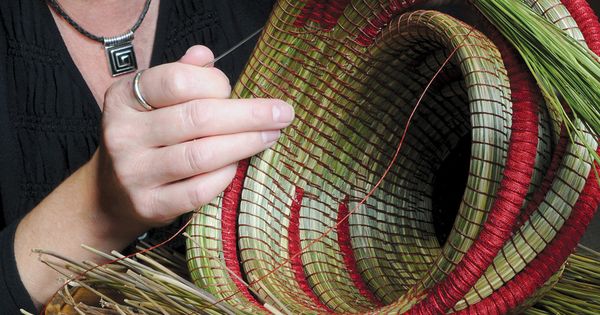 Music was my first passion. It gave me a vehicle for expressing deep feelings, and it taught me the necessity of bringing discipline and clarity of vision to my work. Sculptural coiling allows me to create a kind of visual metaphor for the music of my life.